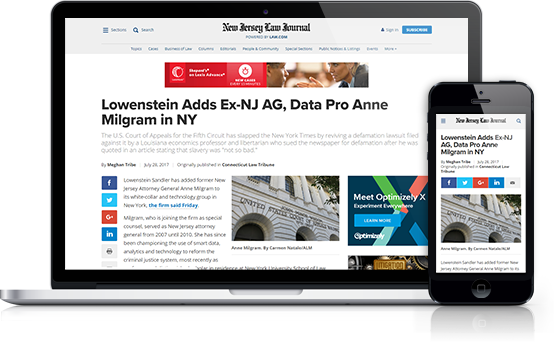 Coverage of the NJ legal market with a special emphasis on the pharmaceutical industry
Focused predictive reporting on breaking news, trends and long-term implications in the New Jersey market. Seasoned reporters deliver the business intelligence that tells you why it matters, the impact on your industry, and the implications of what's to come.
A premium subscription delivers:
Choose from online only or print bundle subscriptions
Expert columns written by the NJ Editorial Board
Special sections and business of law coverage
Searchable database of cases digests
Access to recent NJ verdicts and settlements
Your choice of e-newsletters and customized alerts
Lawyers and legal professionals leverage the business intelligence delivered by New Jersey Law Journal to run their firms and practices, win cases, and close business deals.
Subscribe now to enjoy access to the content you need to anticipate opportunities, adapt to change and prepare for future success!