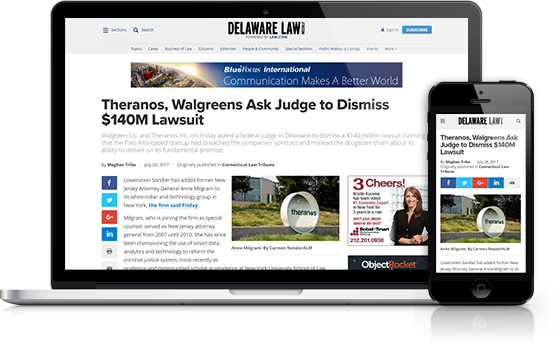 Business intelligence and long-term implications impacting the Delaware market
Unique coverage and hyper-local reporting of breaking news, trends and long-term implications on the key issues and people impacting the Delaware legal community.
A premium subscription delivers:
Choose from online only or print bundle subscriptions
Recent case summaries and full text opinions
Unlimited access to news, insights, and analysis
Weekly digital edition of the paper
Your choice of e-newsletters and customized alerts
Lawyers and legal professionals leverage the business intelligence delivered by Delaware Law Weekly to run their firms and practices, win cases, and close business deals.
Subscribe now to enjoy access to the content you need to anticipate opportunities, adapt to change and prepare for future success!