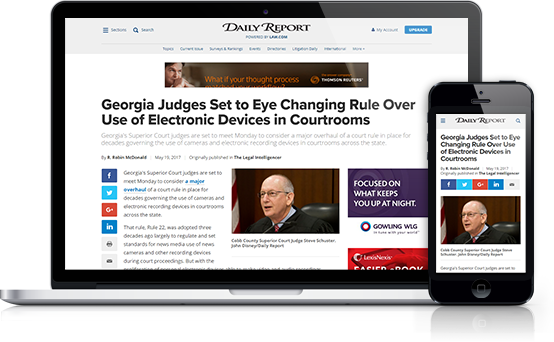 Legal intelligence at the intersection between the law, insurance, and healthcare
The leading legal publication of metro-Atlanta and the state of Georgia, Daily Report provides readers with vigorously-researched and purposefully-presented news and intelligence that has wide-ranging implications for legal practice in the south.
A premium subscription delivers:
Daily newspaper delivery
Special sections including Lawyer Rate and GC Compensation
Features on Georgia's in-house counsel
Recent cases and opinions
Unlimited access to news, insights, and analysis
Your choice of e-newsletters and customized alerts
Lawyers and legal professionals leverage the business intelligence delivered by Daily Report to run their firms and practices, win cases, and close business deals.
Subscribe now to enjoy access to the content you need to anticipate opportunities, adapt to change and prepare for future success!